this page will load awhile. wait if you wanna see em. stop if you don't want to. its just that simple.

---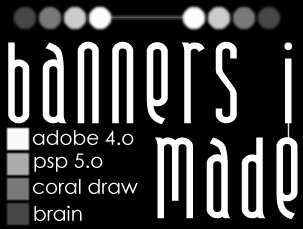 ...some of my older banners were lost...these are what i have so far...
---
[.3rd Banner.]
i got the concept of this banner from...nowhere! i just paste a crap load of stuff on. and said to myself "hey this banners starting to look pretty cool!". so then i just sorted them up, and add in special effects like lens flare, fire effects and little lines (lines aren't special effects, but can make a nice look . check banner 5 for example.) than i added in the little stars. that took the longest since most of them were just pasted individually.
[.4th Banner.]
this banner as you can see is a crap load of Monki's. why MoNkiChi? he/she is an Asian Monkey (although i prefer Bongo and Curious George). Well this banner i did the same as banner 3. just paste a crap load of things. and that's all! then i added in a special effect for the little glow around the monkeys. i forgot but i had to somewhat "Customize" the way it glowed so it wouldn't cover the Monkey's, instead it would outline the monkey. as you can see the Bug on top. why you may ask? because its a YELLOW bug an i like yellow cars. especially cool cars like the Bug.
[.5th Banner.]

this time the banner was thought of. i started out with nothing but yellow. then i accidentally drew some lines. and then i said..hey what if i just drew a whole buncha lines that would somewhat connect. i did that. the first try made it look like a puzzle banner. then i said i'd just concentrate an area. i did that. although its still everywhere but its mostly on the right hand side. i made a little white circle and put in a Anime character that i am not aware of. it was on my computer an its was perfect. so i just stuffed her in. than i put in the car since there was alot of extra space. add a lil zoom in y'noe?
[.6th Banner.]

i like this banner. its plain. very plain. the only thing i like is the drawing. (courtesy of tha Onion Man. go to his site, its in my Links. He's really awesome man. well back to the banner. ofcourse i started out adding in the pics. than made some room for the text. i had troubles putting in the address and names. i liked the font alot an i had to cramp it all up. looks like a big ass word with gaps. after that it was it. i haven't thought about the Type R or the bubble background. but then i saw this other person's banner. and i said...well i guess i could add that too. so i did.. i saw that i had a FAT ASS blank spot with hella bubbles. which you can see is replaced by the Type R's. and that's it for this one.

[.7th Banner.]

milk and cheese kicks major ass. even a novice can make this banner.

[.8th Banner.]

Ditto. you need not know how much they kick ass.
---
..Stuff i made for other people..
this is the banner i made for my friend Jamie. its like filled up with snoopy and "whats that birds name again?". she liked snoopy ALOT. so i just snatched a whole buncha snoopy pics from the web and pasted it one this banner. then i just added in some clouds to NOT make it look so dull. and the font she wanted to look handwritting.ish. welp thats it for this one.

this is a banner for the Jing Mo martial arts accociation. i scanned the to Lions on the sides. and added in a little fire. the chinese text says "Gates to Jing Mo" and it is if you click it that is. what did you say? o your wondering why ' Guy's ' in this portrait. because he kicks major ass thats why. nuff said.
this banner was like a quickee. more like a tester. but the results looked good. so i just gave it to him anyways. well first of all i started out wit ULeaD3d 2.o. that was easy but sucked since i had a slow ass computer. well after that i went to Adobe Paintshop. added in a background. then some homemade smoke. i personnaly actually liked this banner. i wanted to just replace Dave with BoBo. but i said nah thats screwed up. so i just gave it to him.
This banner was for Onion. he has a kewl page. kewler than the kewlest! check it out. say i sent you.
this banner was juss text and bubbles. with other stuff like bevel and electric glowing effect made by me.
thats it.

This one was pretty easy. see if you could figure it out...

Not really a banner but proud to make this guy one. Loc. you moron. haha okay.
if you dont know how i made this get a clue. go to geometry.

---

send me an e-mail and tell me if you want me to make you a banner.
i'd be glad to make one for your webpage. okay baibai.
[BoBo131@hotmail.com]
---
[411] [Shouts Out!] [Links] [Pix] [Comix] [Sign Guestbook] [Contack]